Now that most of us can't use our bags as often as we used to, (and there's a great post on totes in the PB) why not amuse ourselves with a little picture challenge?
Please post a picture of your smallest and largest handbag together. It would also be nice to hear who are in the picture and what do you use them for.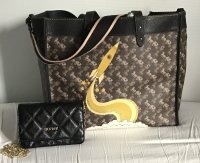 This is my pair of bags, Coach Field Tote 40 and DKNY Sofia.
Field tote is my best buddy for road and day trips, errand runnings, and stuff we do with the kids. A couple of times I've carried my laptop, other gear and misc. stuff to the office as well.
Sofia is very much the bag that I carry when I have another big bag for my other/bigger stuff or I'm just quickly popping out for something.
Who's hiding in your closet?