Hello Everyone:
It is the time of year to be festive and to visit Louis Vuitton, of course! I was just looking for something to pick up as an early self Christmas present. I was debating between the item I got (please see below!

) and the black monogram shawl. I already have the shawl in dune, and the silk trunks square, so I thought it was better to get a totally different style of scarf for this purchase. Well without further adieu - I present to you the Pearl Grey Logomania Scarf!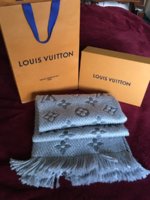 The quality seems good. The first time I wore it this week, some of the wool shed but that stopped. The material is soft, the make is quite intricate but you have to be careful not to snag and pull the wool threads out. That is the case with most types of knits. It is quite luxurious looking in real life!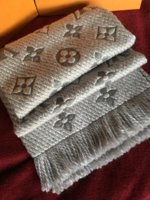 Thanks for letting me share - I hope everyone has a relaxing and safe Holiday Season!