I havent done a reveal in awhile. This latest purchase was a really fun one because a really good friend of mine and I were both on the phone at the same time with two different LVs to purchase this same bag as an anniversary present from our DHs. We both had it overnighted for free courtesy of our generous SAs.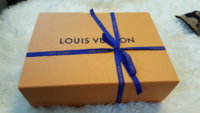 We have been friends for over two decades and although we have been seperated geographically on different coasts we still remain in contact every day chatting about bags, shopping and sometimes just life. If she is reading this, i hope she knows that she has been such a wonderful part of my life and sometimes is the reason I stay sane.
Anyways....here is the instant reveal. I scanned every millimeter of this baby to make sure there are no flaws. Perfect. I hope you guys enjoy the pics and dont hesitate to ask any questions!