As is often the case for me, one exciting Chanel purchase prompts another and I find myself debating between lambskin classic flaps. I was hoping to get some advice from you ladies that have them.
Brief back info - I also love caviar leather, but it doesn't speak to me the way that lamb does. I am gentle on my bags and have many delicate ones that still look great, so we can take durability out of the equation. I also want a color, as I intend to get a black reissue at some point.
So then in terms of lambskin flaps in a color - below are three colors that I have been considering. (Granted, none of them are necessarily obtainable right now, but I'm patient). The problem is, I already have bags in these color families, so none of them fills a clear gap in my wardrobe

.
That said, which one of these colors would you get, and why?
A bright red
A bright blue
A minty or otherwise green with blue undertones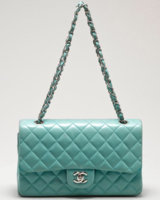 Thanks for any thoughts!