After a tough 2020, this Christmas I treated myself to some special Cartier pieces!
To me the JUC collection now represents strength & resilience - I got through 2020, getting Covid & survived the hell of my incredible husband going into hospital with low oxygen levels (he is home, safe & well now). 2020 was good for me too - I got promoted in a job I love

& I spent some amazing quality time with my 2 sons & my husband.
I wanted 24/7 pieces which would match my thin Love, so that meant rose gold.
Here are my gifts from me, to me!
Small JUC ring size 46mm - as I ordered this straight from Cartier telephone customer services I'm super grateful it fits perfectly!
JUC diamond necklace. Absolutely in love with this. Bought without seeing in person (though I had tried on the plainer version). I went with the diamond version for a few reasons - I like that it's two necklaces in one as it can be worn with either side showing & I much prefer no diamond on the tip of the nail which the pained version has (I want it to LOOK like a nail). It's very difficult to photograph but the diamonds are incredible.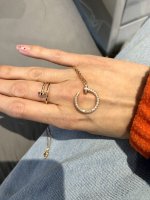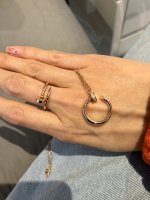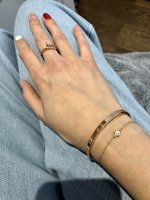 Thank you for letting me share! Merry Christmas everyone!!