"The Bag Whisperer!"
O.G.
Dec 18, 2009
15,863
13,214
I don't have many Marc Jacobs items and I don't know much about them or the pricing, but I think I know enough to recognize style and quality when I see it and I would like to own more MJ products
This new item is my first Marc by Marc Jacobs purchase and I picked it up in clearance at the Saks Off Fifth Outlet yesterday. I only have 2 MJ items, a plum clutch wallet that I love and a small card case.
I am storing my new MBMJ bag in a Cartier dust bag that I got at the thrift store for $2 a few years ago. I took it home and washed it but sadly I never found anything Cartier to put inside it! But it is the perfect size for my new MBMJ bag.
The number of my new bag is 887710003732 and I believe that it is called the Show Off Dome Clutch, is that correct? I paid $90 for the clutch at Saks but I don't know when it was released, or how much it originally cost, or if that was a good deal or not? The price tag says $236 but I don't always believe price tags, especially at outlets!
I just liked the soft leather, the big zipper, the dome shape, and the wide opening. I certainly don't need another small black bag but it appealed to me so I bought it!
I decided to decorate it with a tiny gold Teddy Bear Charm 58811G from Coach. These were a "free gift with purchase" during the holiday sales and they were selling them at the Coach Outlet last weekend for just $10.
So the whole ensemble costs $112 and includes 3 brands: Cartier, MBMJ, and Coach - I hope that you like my small purchases because I sure do!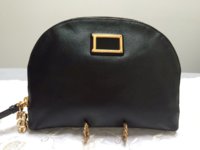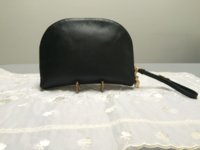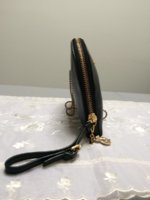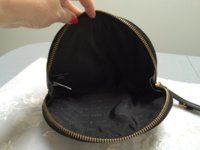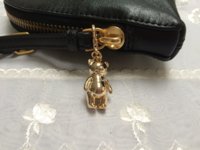 Last edited: