Hello!
I know the authentication thread is closed, but I could use the help!
I am eyeing a pair of 2nd hand Miu Miu, I was wondering what I should look for to make sure they are authentic, the price is a bit low, but it is 2nd hand and Miu Miu is not that well known in my country.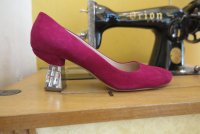 Thanks to anyone who can help out!