Disclaimer: I don't post on PF often, sorry if this is a duplicated review (though I did a little research on Google and couldn't find similar review).
November 22 - Placed order online using their BF 20% code. I purchased 2 items over $400 CAD so shipping was free; charged in credit card in CAD currency ($26 CAD shipping if your purchase is under $400 CAD). Online website said taxes and duties are all included in the final price listed. I wasn't sure if that would include the DHL administration fee/handling fee that they charge (I got hit with admin fee + duties charges from DHL previously so I was cautious). I emailed 24S regarding the DHL admin fee and they replied me on November 24 saying there's no additional fee upon delivery - gave me a peace of mind.
November 23 - Order was shipped from France via DHL. Shipping confirmation allows you to waive the signature upon delivery option which I did.
November 26 - I received my order in the early afternoon. No damaged box whatsoever. The packaging is amazing! See pics attached. I picked Parisian packaging which came with the white box, it was placed inside the cardboard box. There was these this super cute pop-up once you open up the cardboard box. Your billing information is wrapped and printed with Madame (Last Name).
I ordered an Adidas backpack which did not have any packaging. The Tom Ford card holder did come with all packaging (box, dust bag, care card, credit card paper). I also played with different codes to see if I can get bette deals. I initially used "FIRST15" then I found out there was "BLACKFRIDAY20" which both qualified. I ended up using the 20% off one because I found they were selling the backpack I was eyeing also. I believe with the FIRST15, I would need to pay the $26 CAD shipping charge because it would be under $400 CAD after discount.
Hope all these information will help with your future 24S.com purchases.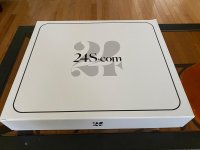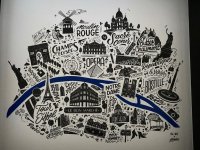 Last edited: