Jun 18, 2012
10,176
32,855
Your Dioramas are beautiful! Are they Raf Simons? They are too pretty for Maria Grazia...

Re dressing better: I adore your lacy cat ears!
Today I am wearing good leggings (the type I consider to be pants as they are substantial and don´t show off anything nobody should show off) instead of totally wrecked H&M jogging pants... And I finally bought a new pair of Rebook Classic Leather sneakers as my go-to pair doesn´t look nice anymore. No wonder after 5 years of regular wear for already bought preloved shoes! The new ones are rosy-gold.... I couldn´t find any silver.
Yep. Raf. I have Dior bags that precede his tenure. Nothing from Maria's era.

The Dior Lady Art #6 bags are out! Eye candy... but highly expensive.
Running to go see!

Glad you like it too. I do think I need to see it in person. I don't like the regular oak smalll grain leather enough to make this kind of purchase so if it's not right it would rule it out. But this legacy oak, if it's like the original and not going to be around long, is definitely worth considering. I have a Lily in original oak and the leather is incredible.

And should I be concerned it's not very fashionable to buy an IT bag from nearly 20 years ago? Perhaps I should branch out to other makes? Or is it ok to just know what I love?!
I've been looking for bags I rehomed and shouldn't have or that I missed out on. The current tiny, puffy, and logo bag trends aren't for me and that's perfectly fine. I'd rather have bags that support my happiness and style. So that was a long winded way of saying - go for it!
—/////—
@Sunshine mama
- the $80 bag is this Celestial Clutch I purchased from the Met Museum in NY.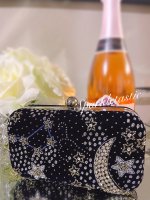 Last edited: