I love seeing everyone's 2021
VCA
,
Cartier
,
Hermes
, etc. wishlists but I know many of us shop from different designers so I'd love to see how everyone is prioritizing ALL of the items on their wishlist - jewelry, bags, shoes, RTW, investments, anything!
My major wishlist "item" is to buy my first home. I plan to save a majority of my fun money (usually used for bags/jewelry) for this over the next couple years.
...but since I do have to stay sane in 2021

, here are the luxe goods on my wishlist:
1. Van Cleef Perlee Signature Bracelet YG or WG
2. Hermes Birkin 30 (likely preloved) - Malachite or Rose Pourpre (no HW pref) - photos from
Fashionphile
3. Van Cleef Malachite Magic Alhambra Pendant
Unlikely that I'll end up getting all of these this year, but maybe writing it down I can will it into existence!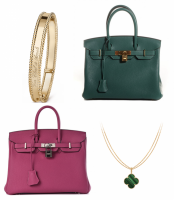 ETA: I've been on the lookout for this Reissue from 2017 forever, so if it pops up on the preloved market, I won't pass it up.
Last edited: