Hello TPFers!
I had the opportunity to purchase two old medium caviar Boy bags from different seasons and wanted to share a few comparison pictures in the event that anyone is curious how caviar differs between two seasons:
16A (left) vs. 17P (right):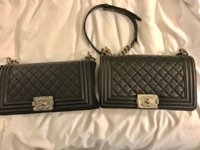 16A (bottom) vs. 17P (top):



16A close up:



17P close up: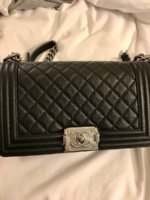 Noticeable differences:
16A caviar is more matte and sleek
16A quilts are more uniform and understated
17P caviar is more shiny, soft, and almost plasticky
17P quilts are more defined, plush/pillowy, and pinched
17P bag is larger (approx half an inch taller in height) despite both priced at old medium size ($4,700)
**Note: Both bags were purchased from different stores.**
It's so crazy how much caviar could vary between two seasons. I am very meticulous--it's almost ridiculous--when purchasing a new caviar piece (whether it's a bag or SLG) because there is so much variance. I must admit that sometimes I ask my SA for multiple photos in different lighting!
In the end, I ended up keeping the 16A caviar bag because I personally prefer the matte/sleek/understated look. The 17P caviar honestly felt really cheap because it was so shiny, soft, and almost flimsy (when opening the flap) if you will. When I compared the two bags side by side, it was evident that the 16A caviar bag was of higher quality.
Curious to hear your thoughts. Thanks for letting me share!