https://www.wsj.com/articles/sorry-millennials-boomers-are-in-at-gucci-11606998799?mod=hp_featst_pos4
Sorry, Millennials. Over-40s Are In at Gucci.
Italian fashion house has toned down its pop-culture-infused designs to court older, wealthier shoppers
By Matthew Dalton
Actress Elle Fanning carries a Gucci Jackie 1961 bag; actor and singer Drake Bell wears a Gucci Bugs Bunny sweater.
PHOTO: (L) EMMA MCINTYRE/WIREIMAGE/GETTY IMAGES; (R) ELIZABETH GOODENOUGH/EVERETT COLLECTION
Two years ago, Gucci emblazoned its clothes with the New York Yankees logo and the face of Bugs Bunny. Now, the Italian fashion house is embracing Princess Diana and Jackie O.
Gucci is courting older, wealthier clientele
to stabilize revenue
as its five-year run of remarkable growth, fueled by younger shoppers, peters out. Creative Director Alessandro Michele—hailed as a visionary for eclectic, pop-culture infused designs that lit up social media and attracted millennials and Gen Z—is shifting to more subtle designs that play on the brand's decades of heritage.
"They are going after the largest, yet most neglected, segment of luxury buyers—baby boomers," said Pauline Brown, professor at Columbia Business School and former head of the North American division of LVMH Moët Hennessy
Louis Vuitton
SE, one of Gucci's major rivals.
"Older consumers not only have the means to buy their products, but they're living longer, healthier, more fashionable lives," she said.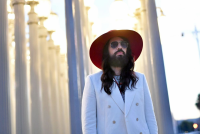 Creative director Alessandro Michele, wearing Gucci, in November 2019, in Los Angeles.
PHOTO: EMMA MCINTYRE/GETTY IMAGES
Executives at Gucci and its parent, Kering SA, say they are counting on the new aesthetic to broaden the label's client base and drive growth, following a four-year run from 2015 when revenue more than doubled. That plan has grown more urgent since the pandemic, as revenue plunged and flocks of tourists from abroad—avid Gucci customers—stayed at home. When a
second wave of lockdowns
swept the West, brands across the luxury sector scrambled to replace the tourist revenue.
Gucci has lost market share during the pandemic to two of its rivals, Louis Vuitton and Dior, both owned by LVMH. Those brands have more well-established customer bases than Gucci, with better connection to non-tourist customers, especially in Europe, said Jean-Marc Duplaix, Kering's chief financial officer.
The Italian brand is both working to retain the huge numbers of customers it attracted in recent years—particularly older millennials who are now turning 40—and court less trend-focused wealthy buyers among Generation X and the Baby Boomers.
The change was evident in Mr. Michele's latest collection, which was shown in November in a six-part online movie directed by U.S. filmmaker Gus Van Sant. Sports logos and cartoon characters were nowhere to be found; looks and silhouettes were simpler than in years past. The movie also features a number of older models and a host of items with traditional Gucci flourishes, such as the horsebit loafer.
"A lot of the subtext is linked to the heritage and those parts of the collection that will have a stronger appeal to high net-worth individuals," said one Gucci executive.
In the collection, Gucci introduces a reinterpretation of one of the brand's handbags made famous when Princess Diana carried it in the 1990s. The label's January menswear collection also unveiled the "Jackie 1961," a reinterpretation of a Gucci handbag carried by Jacqueline Kennedy Onassis.
Mr. Michele hasn't abandoned his penchant for envelope-pushing and streetwear that drew in younger shoppers. Many of the designs in the new collection are androgynous. Sneakers are in abundance, and the new collection features a Gucci skateboard and basketball. But those touches are less prominent than in previous collections.
"We are opening a new chapter at Gucci," Mr. Duplaix said in October.
Sales were flagging when Mr. Michele was plucked from Gucci's design team and installed as creative director in 2015. His off-the-wall, heavily embroidered designs and the brand's digital marketing campaigns attracted droves of younger shoppers from New York to Beijing. Fashion shows became spectacles that popped on social media. Revenue in 2018 rose to 8.3 billion euros, equivalent to $10 billion, from €3.9 billion in 2015.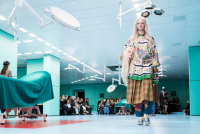 A Gucci show, where models carried replicas of their own heads, during Milan fashion week in February 2018.
PHOTO: PIETRO D'APRANO/GETTY IMAGES
At the brand's Milan fashion show in February 2018, Mr. Michele combined 17th-century-style lace collars and other antique stylings with the logos of the Yankees, the San Francisco Giants and the Los Angeles Dodgers. Models walked through a reconstruction of an operating room carrying replicas of their own heads.
At the Gucci show that year in Paris, Mr. Michele debuted a handbag in the shape of a Mickey Mouse head. One model walked the runway with a cockatoo on her shoulder.
From 2019,
growth slowed substantially
. One incident loomed large: The brand was denounced for selling a black sweater that covered the lower half of the face, with bright red lips surrounding a cutout of the mouth. Critics likened the garment to blackface. Gucci pulled the item and quickly apologized but faced a barrage of criticism.
Gucci executives said the controversy depressed sales in the U.S. for a number of months, with North American sales rising just 1.1% in the first half of 2019 after years of double-digit growth.
In December, Mr. Michele unveiled a collection that was a significant departure: one heavy on formal wear, lacking many of the embellishments of his previous collections.
"More of the same is clearly not going to get you places," said Luca Solca, an analyst at Bernstein. "Knowing you have a problem is halfway to solving it."
Write to
Matthew Dalton at
Matthew.Dalton@wsj.com